Pre-registration for the 2020-21 school year is now open!
One of the positive aspects of COVID has been that many people have been able to spend more time with their families. In planning for the upcoming year for religious education for adults, teens, and children, we have decided to implement a parish family approach to everything we do this year. We want to ensure our families' safety during this turbulent time, and we feel that the best way to do that and ensure social distancing is to offer classes and programs that allow you to learn at home as much as possible. Our theme this year is History's Golden Thread: A Study of Salvation History.
We encourage everyone to participate in this program, which will include six in-person sessions throughout the year. These large group sessions will be held in the Church on Sundays for both teens and adults including EDGE & Life Teen, with special small group sessions for kindergarten through fifth grade held in the school (PSR). After each session, there will be materials available online and sent home for children, teens, and adults to continue learning and understanding their faith. Our goal is to offer everyone participating to encounter the beauty of OUR STORY found in scripture with two to three thirty-minute sessions after each of the in-person meetings.
The schedule for the in-person sessions is:
September 27, 2020 | 9:15 AM – 10:15 AM | Church
October 25, 2020 | 9:15 AM – 10:15 AM | Church
December 6, 2020 | 6:45 PM – 8:00 PM | Church
January 10, 2021 | 9:15 AM – 10:15 AM | Church
February 28, 2021 | 6:45 PM – 8:00 PM | Church
March 28, 2021 | 9:15 AM – 10:15 AM | Church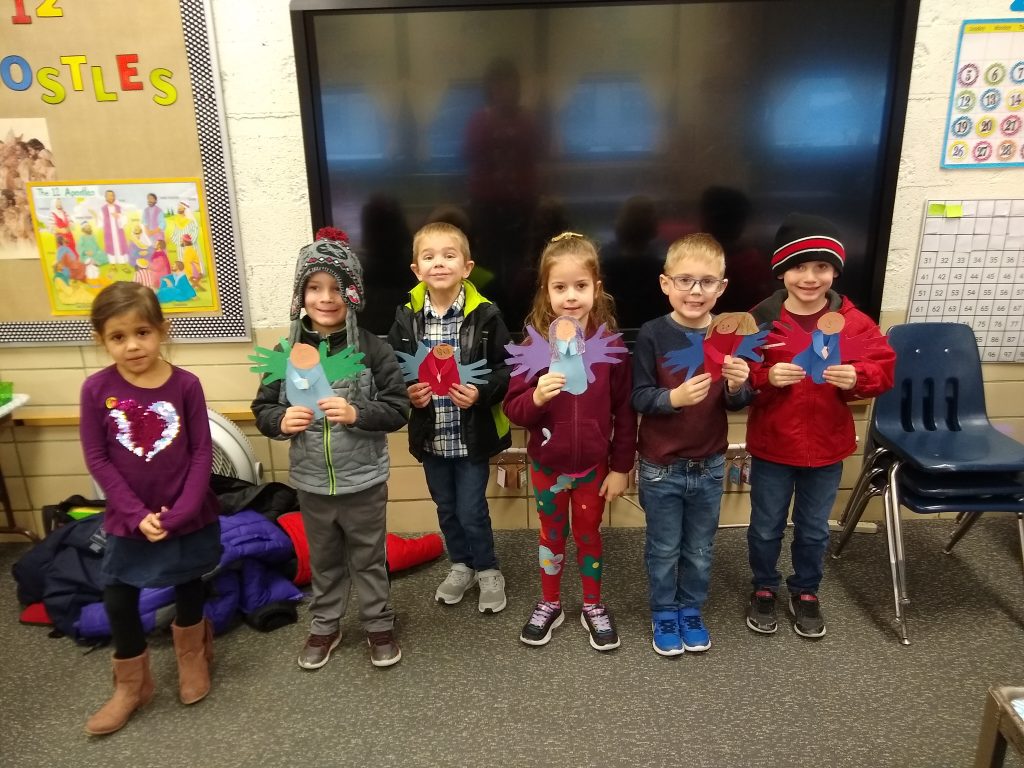 We have worked hard to find ways to make this something that everyone can participate in, young, old, married, and single. We also want you to know that it does not matter what level of faith you are at for you to participate; everyone is welcome! For adults, there is no need to register. If you plan to bring your children or teens, we ask that you register online by visiting the Kids & Student section of our website. We are excited about the opportunity to grow in faith together as a community this year. Our team is available to answer any questions you may have and look forward to seeing you at our first in person, but socially distant session.
Please Note!
*All classes can be completed either online or in person.  If you are planning on participating online, you will need to contact Julie Fischbach by email at fischbachj@stcharleslima.org or by phone at 419-228-7635 to get set up to receive links and other info.
If your child is a student at St. Charles Catholic School please use this button if you would like to sign up for this year's Family Catechesis –
If you prefer to pay via check or money order, paper registration forms can be picked up at the Parish Office or printed from the PDF located in this link.
Please return forms and tuition to the Parish Office or at the Welcome Desk on any Sunday morning. Checks should be made payable to St. Charles with Youth Formation in the memo. If you need a scholarship, please call the parish office at 419-228-7635.
Our Tuition fees have changed and are now $40 per child per year.
To learn more about how St. Charles is protecting our youth, click Here!