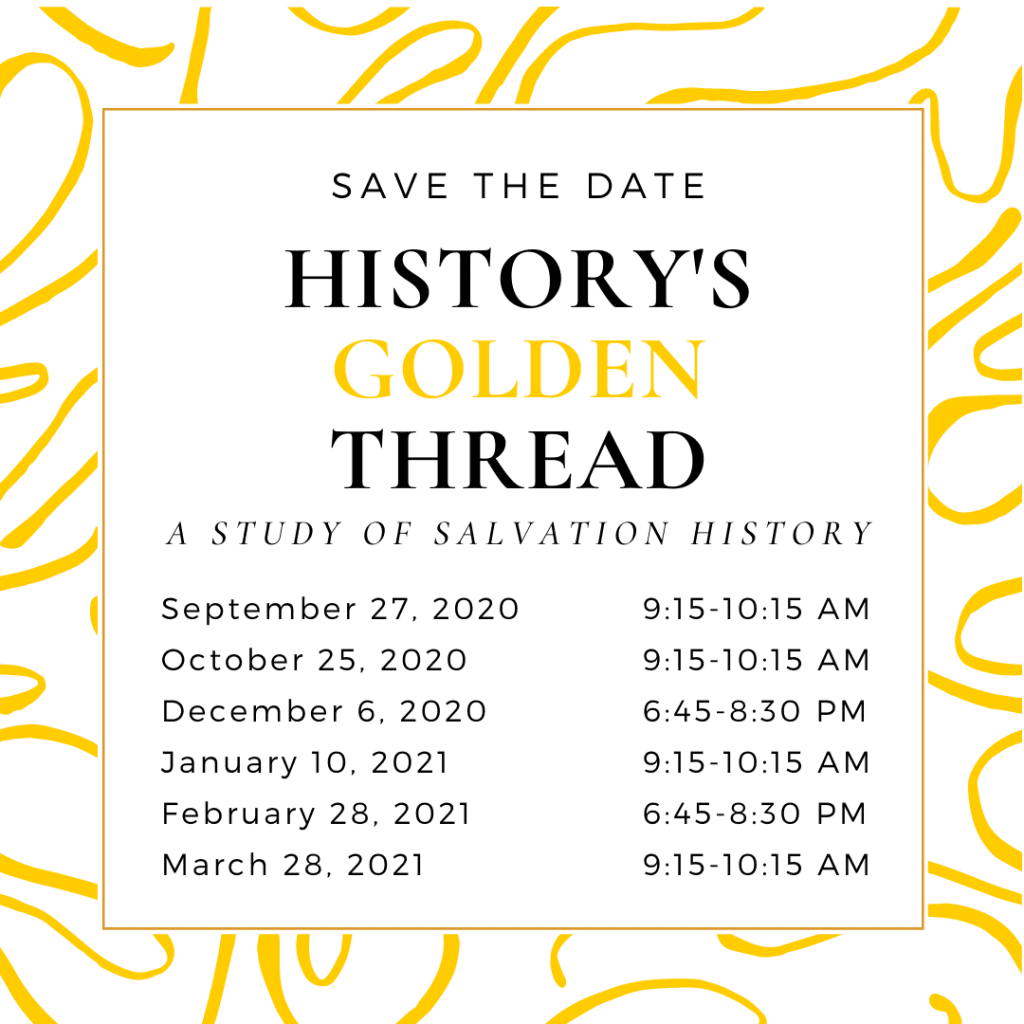 We wanted to reach out and let you know about some of the opportunities we have for your family to grow in their faith this year. While COVID has presented challenges, one positive aspect has been that many people have been able to spend more time with their families. So this year we have decided to implement a parish family approach to everything we do. We want to ensure our families' safety during this turbulent time, and we feel that the best way to do that and ensure social distancing is to offer classes and programs that allow you to learn at home as much as possible.

We would like to invite you and your family to participate in our family catechesis program this school year. Our theme this year is History's Golden Thread: A Study of Salvation History. There will be 6 in-person sessions held in the Church on Sundays for adults and teens (including EDGE and Life Teen), with the teens breaking away into small groups for discussion and activities. For our younger members of the St. Charles community (grades K-5), while parents and older siblings are experiencing their faith in the church, we are offering the same curriculum specialized for where the kids are in their development over at the school during each of the in-person sessions.
After each session, there will be materials available online and sent home for the adults, teens, and children to continue learning and understanding their faith. Our goal is that these materials will help you and your teens to encounter the beauty of OUR STORY found in Scripture by diving deeper together or individually with 2-3 thirty minute at-home sessions after each of the in-person meetings.
If you would like to attend, but are not able to be here for our in-person meetings, your family can still participate as each of the sessions will be LiveStreamed and recorded to be watched at your convenience. All materials for the adults and each grade level will also be provided via email or hard copy at your request.
Everyone is welcome to participate no matter how old or young, married or single, or what level of faith you are. For adults, there is no need to register. If your teen or children plan to attend, we do ask that you register. Our tuition has changed and is now $40 per youth per year. Financial assistance is available and details can be found on our website. You can register online by visiting the 'Kids & Student' section of our website or by visiting this form. We are excited about this opportunity to grow in faith together as a community this year!
If your child is either making his/her First Communion or Confirmation this year and does not attend Catholic School, this is a large part of the formation process. To round out their catechesis, we are adding 4 more sessions just for these kids to be offered either in-person or in-home study. You can find the full schedule on our website.
In addition to our family program, EDGE and Life Teen are planning to meet once a month! We are planning to have in-person, socially distanced meetings but this may change in light of restrictions due to COVID. Even with a new schedule and possibly new format, we will still need each family to register as per usual because we will still be ordering supplies and resources. Families need only register and pay tuition once for each of their children to be able to attend both the family program and EDGE or Life Teen. As mentioned above, you can register online by visiting the 'Kids & Student' section of our website or by visiting this form . Please keep checking on us at our site and on our social media for more updates! 
From all our youth ministers, thank you for the privilege of being part of your child's life and please let us know if there is anything we can do to support you. We are looking forward to seeing you at our first in-person, but socially distant session!