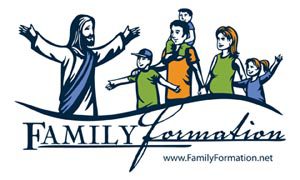 Welcome!
Family Formation is designed to help parents respond to the Church's call for them to be the first and foremost educators of their children. The Church's role is to help families grow in the transforming love of God by understanding and living the Catholic Faith.
The Christian home is the place where children receive the first proclamation of the faith. For this reason the family home is rightly called "the domestic church," a community of grace and prayer, a school of human virtues and of Christian charity. (CCC 1665 ) Just as Jesus learned his first lessons of Faith from Joseph and Mary, his parents, so will our children learn his or her first lessons of Faith from their parent(s).
Monthly parent and child sessions are held in which adults receive catechesis and are taught how to teach their children that month's Home Lessons, while children meet in grade level classroom settings. St. Charles has included a session on the third Sunday of each month. This is an opportunity for the families to come together as a community and put their Faith in action. So, it is with faith: if it is alone and includes no actions, then it is dead. (James 2:17)
Family Formation is a tried-and-true Catholic curriculum developed by ordinary parents with typical lives. The materials are engaging, down-to-earth, and easy to understand. Family Formation is meant to bring the family together once a week to learn the Faith with joy and excitement, rather than making learning about God and Church a boring dreaded task.
Through Home Lessons, games, quizzes, stories, and music, solid Catholic teaching is transmitted, and the Faith is brought to life within the family.
The Vision
Transform the world one family at a time.
For questions or more information contact Melody Kearns, Family Formation Coordinator (kearnsm@stcharleslima.org)
23-24 Family Formation Calendar
---
---